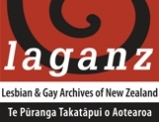 LAGANZ Home
Collections
Resources
Visit the Archives
Links
Board of Trustees
Friends of LAGANZ
Volunteer
Events
Conference

Information for Conference Attendees
20 Years On - Homosexual Law Reform Conference
Friday 1 & Saturday 2 December 2006
National Library Auditorium, Wellington
LAGANZ is hosting a two-day conference to focus on the history of Homosexual Law Reform in New Zealand.
Information for Conference Attendees
Catering on Friday and Saturday
Friday's keynote address by Tim Barnett, MP at 5pm, will followed by a panel discussion and a wine & cheese event which is included in the $20/$12 Friday registration price.
Saturday will feature papers and panels and will be fully catered for lunch and morning and afternoon tea. A range of vegetarian options will be provided. Special dietary requirements can be accommodated – please mention them on the registration form.
An informal conference dinner has been arranged at a Wellington restaurant on Saturday 2 December. Organisers will make a block booking and may need to confirm numbers on Wednesday 29 November (so please register early if you are interested in attending).
Facilities for the Disabled
The National Library and its conference rooms are wheelchair accessible. A hearing loop is available. Please mention any other requirements on the registration form or by contacting the organisers.
Accommodation Offers
The following home stays and hotels have generously offered discounts for conference goers.
The conference organisers are grateful to these hotels and home stays for their support.
Contacts
Enquiries about registration, payment, facilities at National Library please contact Gavin Hamilton, tel (04) 471 5112 (wk), events@laganz.org.nz.
Enquiries about the the programme, speakers and presentations please contact Alison Laurie, tel (04) 463 5267, alison.laurie@vuw.ac.nz.
Last updated: 16/10/2007
Lesbian and Gay Archives of New Zealand (LAGANZ) | Te Pūranga Takatāpui o Aotearoa
PO Box 11-695, Manners St, Wellington 6142
Alexander Turnbull Library, 70 Molesworth St, Wellington 6011
NEW ZEALAND

Curator Tel: +64 4 462 3972 | Trust Secretary Mob: +64 27 444 3961

curators@laganz.org.nz | facebook.com/lgarchivesnz | instagram.com/lgarchivesnz